*All fields must be filled out in order to process the request
Image type
: Header and Avatar 
Size(pxl)
: Not sure on the sizes
Colors
: Blue  
#92BBD1
#1FFFF4
#1E1E2A
Link to your page
:
http://screencappingzone.forumotion.com
Text or Image to include
:
Header

Avatar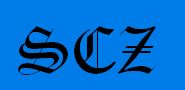 Description
:
Hello Skouliki 
I have posted on Ape`s forum, this is my effort using Microsoft word for my background colour.
Can the Header and Avatar be improved ? The writing is Olde English.
Hope you can work something out ? the skin back ground is black,
The blues that in near to these are what I have on my old forum, :
#1FFFF4
#92BBD1
and the black 
#1E1E2A
.
If you could try blue background black Olde English writing like I have now and black background blue Olde English.
As for the way it looks could I see two, the first as you see it now, and the second in a wave look please, with a reel of film at the end.
No rush in your own time
Regards
Cassini