Now you can spend your forum points by "buying" extra icons for your profile.
See below how you can gain more forum points

You will gain points from postings on the forums.
The number of Points will be depending upon the section you have posted a message or topic.
You will get minimum of 3 points per post and a maximum of 50. 

see also our threads with this icon

here
 to win extra forum points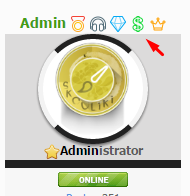 * for country flag, favourite sport, username icon and personal rank title please inform us about your preference